The Buon Vino Super Automatic Bottle Filler allows for quick and easy filling of wine bottles for the home winemaker. The bottle filler is easily primed and is self-leveling and self-deactivating to help prevent accidental overflow. The specially designed tapered tip cascades wine into the bottle. In order to fill additional bottles, you need simply remove the automatic filler from the first bottle and place it into the next, pushing down on the activation lever to continue the wine flow.
How it works…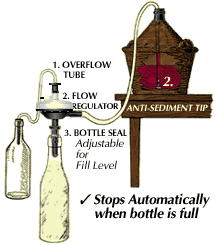 Usage: To use the filler, place the device on top of the bottle to be filled, insert the intake tube into your vessel containing the liquid, and the small overflow tube into an empty bottle. To begin the siphon, start by pressing down on the center plunger on the flow regulator to open the valve.  Suck on the end of the overflow tube until the liquid begins to flow into the bottle. When liquid is flowing into the bottle, put the overflow tube back into the empty bottle. When the liquid reaches the top of the bottle, the valve will shut the flow off automatically. 
After the first bottle, check the level of the fill and adjust the level up or down if necessary by moving the rubber bottle seal up or down. Please note that the fill level can be affected by excessive foaming. After one bottle is filled, move the bottle filler to another empty bottle, push down on the plunger lever, and repeat.
Comes with 6 ft. of tubing.